Hello!  It's time for the…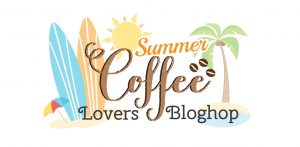 I completely missed the Spring bloghop, so I'm happy to have at least a few cards this time around.  Here's my first card:
I made the background (minus embossing) awhile back just playing around and set it aside to use later.  The colors are a combination of Brusho Rose Red crystals and Iced Spruce distress ink, with Vintage Photo DI around the edges.  For my card, I used  MFT Mix-ables Scrolled Background stencil with Wendy Vecchi Crackled texture paste.  Next, I sprinkled on WOW!  Pink Fizz (glitter) embossing powder and let set for a few minutes before using my heat tool to partially dry it.  I forgot to take a photo of the background before embossing, but you can see a small portion on the right below.  The colors do look different under this lighting, and none of the photos show how sparkly it truly is.
I used the Cup Pop Stand die and Coffee & Tea clear stamp sets, both by Elizabeth Craft Designs.  I've been wanting to use more of my stash, so I got out some washi tapes to decorate my cups.  It's not usually that difficult to line up patterns, but these tapes weren't very cooperative and even though I used a bone folder over them, you can still see the lines.  I decided to emboss them with my Anna Griffin Embroidered Hearts embossing folder, which I've been using a lot lately.  I added a little bit of Iced Spruce DI over the embossing and inked the edges with Vintage Photo DI.
I have a pile of used coffee filters for cutting out my Tim Holtz doilies…an idea I borrowed from my blog buddy, Autumn (SewPaperPaint).  Great idea, Autumn!  She also gave my sister and I (each) a container of flower petals when we met this past March (thank you!!).  I used them to make my beautiful flower and added Art Stones, and also inked it with Victorian Velvet DI.
The spoon was cut from TH Metallic Kraft-Core and scratched up a bit with my sanding tool.  I think that covers everything, and here's a few more close-ups.  Thanks for stopping by and have a great weekend!
Playing along with: